WHY
WEST REGION
5 reasons to invest
Business environment
Sevices of West RDA
Investor Locations
Success Stories
Photo Gallery
Strategic Partners
Resources
Discover West Region

EVENTS
HUF Romania - project assisted by West RDA
27/02/2006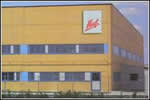 An exclusively assisted RDA West project, HUF Romania was established in the first part of 2006 at West Industrial Area Arad location. RDA West prepared the first visit in West Region Romania of the two representatives of this company in December 2005.
Active in automotive industry, HUF Hulsbeck & Furst is providing solutions for car access, security and immobilization of cars. Strategic supplier of important car manufacturers, HUF is a very important player for most of the European car manufacturers.

USEFUL
INFORMATION
Establishing your business
Doing business
Structural Funds
Legislation
Authorizations

NEWSLETTER

In curand

SUCCESS
STORIES
Success story of West Region Romania - Arad West Industrial Zone

Location: in the western part of Romania - to the north of West Region. The city is only 60 km away from the border with Hungary.Owner: Arad City Council Description of the Arad West Industrial Zone·...