WHY
WEST REGION
5 reasons to invest
Business environment
Sevices of West RDA
Investor Locations
Success Stories
Photo Gallery
Strategic Partners
Resources
Discover West Region

EVENTS
Transport infrastructure

 
1. Road infrastructure
Five European roads, shown in the map below, cross the West Region from north to south and east to west. Three of these are listed as main European roads, and the other two are secondary European roads:

Main European roads:

E 68 - enters the country from Hungary (Nadlac) and leads to the centre of the country (Sibiu, Brasov) and the capital city of Bucharest via Arad-Deva. We can rate this as a good road connection between the counties of Arad and Deva, especially following the recent modernization undergone by the road.

E 70 - enters the country from Serbia (Moraviţa) and leads, via Timisoara, to the north of the country and the capital city;

E 79 - enters the country from Hungary, through Oradea (Bors), and leads to the south of the country through the Jiu Gorge (county of Hunedoara;

Secondary European roads:

E 671 - a road that has recently been modernised and brought to European standards, it provides a good connection between the two important regional centres, Arad and Timişoara;

E 673 - connects Ilia (E68) to Lugoj (E70) via Faget, reducing the distance between Deva and Timisoara.

The Nădlac-Piteşti motorway (under construction)

The progressive construction of the Nadlac-Arad-Timisoara-Lugoj-Deva-Sibiu-Pitesti motorway is an important project as part of the TEN-T strategy, priority axis 7. The motorway will optimise road transport along the Pan-European Corridor IV: to Hungary and the other EU Member States westwards, and to Bucharest and Constanţa/the Black Sea eastwards. At the same time, the motorway will ensure a better internal connection between the regional centres of Arad, Timisoara, Lugoj, and Deva.
The European roads network in West Region Romania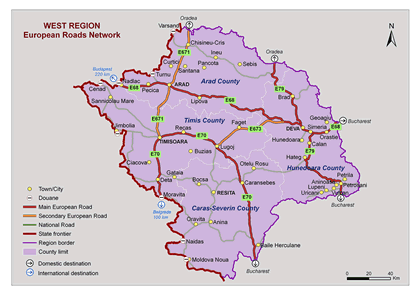 2. The railway infrastructure
The West Region is crossed by three conventional international railroads:

Bucharest - Craiova - Timisoara - Jimbolia (supplied with electricity up to Timişoara)

Bucharest - Timisoara - Stamora-Moravita

These two railroads continue on the former Yugoslavian territory towards Belgrade.

Bucharest - Braşov - Sibiu - Deva - Arad - Curtici, continuing into Hungary, towards Budapest (supplied with electricity over the whole length)

As concerns the cooperation with the neighbour states of the West Region, there is a railroad border crossing between Romania and Hungary in Curtici, in the county of Arad.

There are also two railway border crossings into Serbia, both in the Timis county: Moraviţa and Jimbolia. An important aspect for the international freight and passenger transport is the fact that the above mentioned railways are connected with the trans-Carpathian railways providing a link with the neighbouring counties and regions:

Deva - Targu Jiu - Hateg

Simeria - Brad

The railway network in West Region Romania

USEFUL
INFORMATION
Establishing your business
Doing business
Structural Funds
Legislation
Authorizations

NEWSLETTER

In curand

SUCCESS
STORIES
HUF Romania - project assisted by West RDA
An exclusively assisted RDA West project, HUF Romania was established in the first part of 2006 at West Industrial Area Arad location. RDA West prepared the first visit in West Region Romania of the t...