WHY
WEST REGION
5 reasons to invest
Business environment
Sevices of West RDA
Investor Locations
Success Stories
Photo Gallery
Strategic Partners
Resources
Discover West Region

EVENTS
The proximity of West Region to international markets

The economic growth of the West Region is linked with the development of a modern and efficient transport infrastructure. The optimisation of the interconnectivity and interoperability of this infrastructure is guaranteed by the inclusion of the West Region in the TEN-T network (Trans-European Network for Transport). The region is crossed by three priority axes belonging to the TEN-T network: road axis 7, river axis 18, and railway axis 22. At the same time, investors and local companies can use the services of two international TEN-T airports in Arad and Timişoara.

The TEN-T network in West Region Romania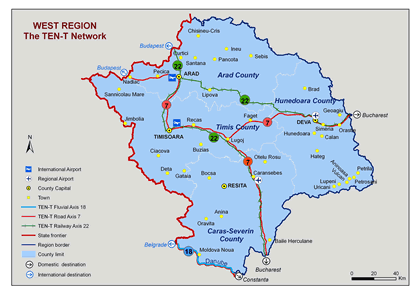 USEFUL
INFORMATION
Establishing your business
Doing business
Structural Funds
Legislation
Authorizations

NEWSLETTER

In curand

SUCCESS
STORIES
Success story: Foreign Direct Investment - Siliken

Siliken is a global company integrated in the value chain of the solar industry which began its activities in June 2001. In February 2011, Siliken opened a solar panels production unit with a total of...