WHY
WEST REGION
5 reasons to invest
Business environment
Sevices of West RDA
Investor Locations
Success Stories
Photo Gallery
Strategic Partners
Resources
Discover West Region

EVENTS
Competiția Regională ScaleUP 2017 - Cum pot beneficia întreprinderile !
17/11/2017
Stimate Doamne / Stimati Domni,

După cum știți, am lansat Competiția Regională ScaleUP, deschisă IMM-urilor din orice sector economic din Regiunile Vest și Sud-Vest Oltenia, cu o vechime de minim 3.
Companiile câștigătoare vor beneficia, pe parcursul anului 2018, de un pachet de consultanță Enterprise Europe Network și coaching international în vederea scalării afacerii.
Vă rugăm să urmăriți video-ul de mai jos pentru a afla mai multe detalii despre Competiția Regională ScaleUP: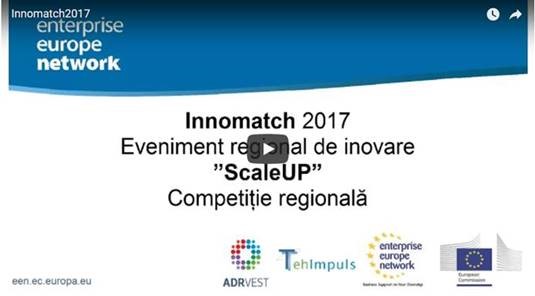 Competiția Regională ScaleUP este organizată în cadrul evenimentului Innomatch2017, care va avea loc în data de 12 decembrie 2017, la Venue Timișoara (Strada Divizia 9 Cavalerie 64, Timișoara 300254). Pentru informații suplimentare, vă rugăm să contactați echipa One-Stop-Shop Enterprise Europe Network din cadrul ADR Vest, la adresa de e-mail office-een@adrvest.ro, sau la telefon 0256 491 923, solicitând conectarea cu
Raluca Cibu-Buzac, Director Politici Regionale și Internaționalizare și Coordonator EEN pentru Regiunile Vest și Sud-Vest Oltenia.
Karla Hațegan, Șef Birou Implementare Servicii IMM-EEN

USEFUL
INFORMATION
Establishing your business
Doing business
Structural Funds
Legislation
Authorizations

NEWSLETTER
In curand
SUCCESS
STORIES
TMD Friction Romania SA - project coordonated by TMG Romania and assisted by West RDA

TMD Friction is the world's largest manufacturer of brake friction materials, employing 3,800 people, who are dedicated to producing 1 million brake friction products per day. 13 production sites in ...