WHY
WEST REGION
5 reasons to invest
Business environment
Sevices of West RDA
Investor Locations
Success Stories
Photo Gallery
Strategic Partners
Resources
Discover West Region

EVENTS
FREIDORF INDUSTRIAL PARK TIMISOARA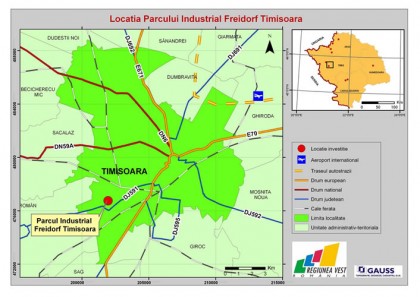 Total surface: 47.9 ha
Free surface: 32.7 ha
Owner: Municipality of Timişoara

The plot will be leased out through a bidding process on a period of 49 years that can be prolonged with 24.5 years, totally 73.5 years.

Distance from the center of Timişoara: 7 km

Distance to the International Airport Timişoara: 15 km

Population (50 km range): 662.560 persons

Infrastructure:
Electricity - 3 MW available capacity with posibilities of extension


Gas - in the northern part there are 2 pipes for gas


Network of water supply - available capacity 527 m3/day


Water sewage - available capacity 422 m3/day


Sewerage - twice/week, available capacity 97.000 t/year


Telephone network - optic fiber

Photos

USEFUL
INFORMATION
Establishing your business
Doing business
Structural Funds
Legislation
Authorizations

NEWSLETTER
In curand
SUCCESS
STORIES
TMD Friction Romania SA - project coordonated by TMG Romania and assisted by West RDA

TMD Friction is the world's largest manufacturer of brake friction materials, employing 3,800 people, who are dedicated to producing 1 million brake friction products per day. 13 production sites in ...